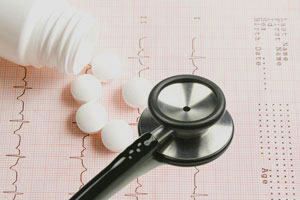 Evidence-Based Answer:
Beta-blockers should be prescribed at low initial doses and gradually titrated every 2 weeks to research-validated targets or the maximally tolerated dose. Two-thirds of patients will not achieve target doses. (SOR A, based on multiple randomized controlled trials [RCTs].) If worsening of heart failure symptoms occur during titration, the doses of diuretics (SOR B, based on multiple RCTs) or other concomitant medications (SOR C, based on expert opinion) should be adjusted.

Sustained-release metoprolol and immediate-release carvedilol both have a US Food and Drug Administration (FDA) indication for use in heart failure, based on high-quality RCTs.1–4 Bisoprolol has strong supporting evidence for its use and is recommended per guidelines, but has an FDA indication only for hypertension.1,2,5
Two trials used an every 2-week beta-blocker titration schedule (TABLE).3,4 The Metoprolol CR/XL Randomised Intervention Trial in Congestive Heart Failure (MERIT-HF) and the Carvedilol Prospective Randomized Cumulative Survival Study (COPERNICUS) were both large, double-blind, randomized, placebo-controlled heart failure survival studies.3,4 Only 64% and 65.1% of patients, respectively, tolerated titration to target dose.
The Cardiac Insufficiency Bisoprolol Study (CIBIS) III was a large, randomized, open-label, blinded end point evaluation trial.5 CIBIS III evaluated beta-blockers as initial therapy in comparison with angiotensin-converting enzyme inhibitors. A 6-step titration was used. Only 65% of patients tolerated titration to target dose.
The above trials used diuretic adjustment as needed to facilitate beta-blocker titration, but failed to characterize the actual changes in diuretic frequency and/or dose during titration.3–5 Expert opinion suggests increasing diuretic dosing for patients with symptoms of fluid retention or worsening of heart failure.2 The American College of Cardiology/American Heart Association and the Heart Failure Society of America suggest extending beta-blocker titration and making vasoactive medication dose adjustments for patients with bradycardia and hypotension.1,2
HelpDesk Answer From EBP,
Inna Velychko, MD Stephen Thomas, PharmD
Flower Hospital Family Medicine Residency, Sylvania, OH
1. Hunt SA; American College of Cardiology; American Heart Association Task Force on Practice Guidelines (Writing Committee to Update the 2001 Guidelines for the Evaluation and Management of Heart Failure). ACC/AHA 2005 Guideline update for the diagnosis and management of chronic heart failure in the adult: a report of the American College of Cardiology/American Heart Association Task Force on Practice Guidelines (Writing Committee to Update the 2001 Guidelines for the Evaluation and Management of Heart Failure).J Am Coll Cardiol. 2005; 46(6):e1–e82. [LOE 5]
2. Heart Failure Society of America. Executive summary: HFSA 2006 Comprehensive Heart Failure Practice Guideline. J Card Fail.. 2006; 12(1):10–38. [LOE 5]
3. Hjalmarson A, Goldstein S, Fagerberg B, et al. Effects of controlled-release metoprolol on total mortality, hospitalizations, and well-being in patients with heart failure: the Metoprolol CR/XL Randomized Intervention Trial in congestive heart failure (MERIT-HF). MERIT-HF Study Group. JAMA. 2000; 283(10):1295–1302. [LOE 1b]
4. Packer M, Coats AJ, Fowler MB, et al; for the Carvedilol Prospective Randomized Cumulative Survival Study Group. Effect of carvedilol on survival in severe chronic heart failure. N Engl J Med. 2001; 344(22):1651–1658. [LOE 1b]
5. Willenheimer R, van Veldhuisen DJ, Silke B, et al; for the CIBIS III Investigators. Effect on survival and hospitalization of initiating treatment for chronic heart failure with bisoprolol followed by enalapril, as compared with the opposite sequence: results of the randomized Cardiac Insufficiency Bisoprolol Study (CIBIS) III. Circulation. 2005; 112(16):2426–2435. [LOE 1b]